Miss Cocopah To Lead Toy Drive Rally on Dec. 6.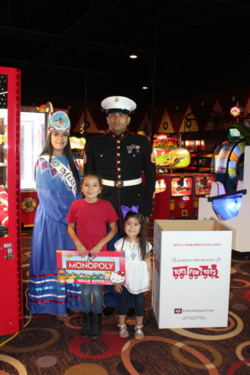 "I hope to see a lot of smiles for the children," Salazar said.
In her first public outreach effort for charity, Miss Cocopah Santana Marie Salazar will lead a toy drive rally to benefit the Marine Corps Reserve Toys for Tots program in Yuma County.
"I hope to see a lot of smiles for the children," Salazar said.
The 17-year-old Salazar is active in children's causes. She assists with the Cocopah Tribal Police Department's Cadet program, which takes children on field trips to teach them life skills. In October, she made an appearance at the anti-drug Red Ribbon Campaign family luncheon that was held on the West Reservation. Earlier this year, while competing for the crown, she participated in the Stuff the Bus Campaign to donate backpacks and school supplies to children in need.
For the upcoming toy drive, Miss Cocopah took part in the taping of a television public service announcement at the Cocopah Wild River Family Entertainment Center.
Staff Sgt. Jose Ruiz, the Toys for Tots Coordinator for the Yuma County area, is also featured in the soon-to-be broadcast PSA.
"It's rewarding to see that kids in need will get at least one toy during the Christmas season," said Ruiz.
Since its inception in 1995, the Marine Toys for Tots program has "distributed over 469 million toys to over 216 million less fortunate children," according to the program's website.
Wild River is partnering with the local Toys for Tots program. The rally will be held from noon to 5 p.m. on Saturday, Dec. 6 in the parking lot of the Wild River, located at County 15th and Avenue B.
The event will include free popcorn and ice cream along with free horse and pony rides courtesy of Saddles of Joy Ranch.
It will be simulcast live on KTTI-FM.