New Miss Cocopah Crowned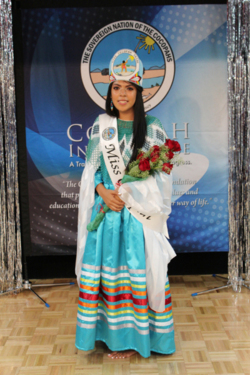 Santana Salazar takes center stage at pageant

Hundreds of people on Thursday night cheered as 17-year-old Santana Marie Salazar was crowned as Miss Cocopah.
"It is an honor. I know I can do good and represent my tribe to other nations," Salazar said, as reported in the Yuma Sun.
A five judge panel named contestants Samantha Twist as 1st Attendant and Kayla Burney as 2nd Attendant.
The young ladies spent months preparing for the pageant, which was held at 6pm on Thursday in the ballroom of the Cocopah RV and Golf Resort.
Judges evaluated the contestants on their poise, knowledge of Cocopah histories and tradition.
The young ladies introduced themselves to the audience, described the meaning and symbolism of their traditional dresses, and performed individual and group dances.
In a show of support and solidarity, Native American royalty from several other Arizona tribes and reigning Miss Yuma County Hailey Bernardo attended the pageant and gave their best wishes to the three Miss Cocopah contestants.
Bernardo's appearance marks the first time a sitting Miss Yuma County attended a Miss Cocopah Pageant.
Cocopah Tribal Council Vice Chairman J. Deal Begay Jr. served as the event's emcee.
Just before the crowning ceremony, in her last official public appearance as Miss Cocopah, Shelyne Twist took her final walk and danced on stage.
Twist presented Salazar with the crown, sash and a bouquet of roses.
Salazar, who plans to pursue a career in law enforcement, will serve a two-year term.
In the months leading up to the pageant, Salazar, Twist and the other contestants participated in two high profile public events this summer---- the Fiestas Patrias celebration in Somerton, Arizona, and the Stuff the Bus fundraising campaign in Yuma.