Reigning Miss Cocopah Heading For State Pageant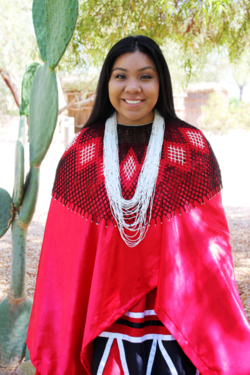 "I have such a love for representing my tribe..."
Shelyne Twist, the reigning Miss Cocopah, is in the running for the coveted title of Miss Indian Arizona.
If she wins, Ms. Twist will be the first Miss Cocopah in the organization's 53-year history to attain this honor.
"Of course I'm excited. I have such a love for representing my tribe, it will be a great experience and a great honor," Twist said.
The 23-year-old reigning Miss Cocopah is among seven other contestants from five other Arizona tribes who are competing for the state title. The other contestants are from the Salt River Pima-Maricopa Indian Community, the Gila River Indian Community, the San Carlos Apache Tribe, the Tohono O'odham Nation, the White Mountain Apache Tribe and the Navajo Nation.
Twist was crowned Miss Cocopah in 2012. She is currently pursuing a Bachelor of Arts Degree in Music Performance through the University of Arizona in Tucson. She was born on the Cocopah reservation and lived there until she was 16 years old. She graduated from Yuma High School in 2009 where she made the National Honor Roll.
During her two-year term as Miss Cocopah, Twist has represented the Tribe at numerous Native American events throughout Arizona, California, and New Mexico. In addition, she has participated in numerous community events including the Cocopah Cultural Celebration, the Annual Yuma Jaycees Rodeo Parade, and the Veterans Day parade.
"My two main goals for the past two years are simply representing the tribe and being a role model. Whether that's to other tribes or non-natives, I try my best to represent the tribe with honor, dignity, and respect," Twist said.
Twist has also served as a guest speaker at area schools and has participated in fund raising activities.
Most recently, she and the three Miss Cocopah 2014 candidates participated in the annual Stuff the Bus campaign, donating 10 complete backpacks for needy school children.
The 53rd Annual Miss Indian Arizona Pageant will be held on October 11 in Chandler, Arizona.