Cocopah Donation Brings Back Wellton Summer Camp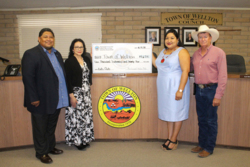 Cocopah Vice Chair J. Deal Begay, Jr. (left) and Cocopah Councilwoman Rosa J. Long (second from right) present the annual profit share check to the Town of Wellton.
The annual contribution enabled Wellton to bring back its summer camp for kids last year and again this year. Wellton Mayor Cecilia McCollough (second from left) and Town Manager Larry Killman received the contribution.
Each year under the Arizona Gaming Compact, Native American tribes that have casinos are required to share a percentage of their gaming profits with local governments in support of community programs and services.