Cocopah Elder Inducted Into Hall of Fame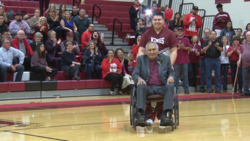 Will Bert Ortega Sr. was honored by Kofa High School for his role in winning the state football championship in the early 1960s.
Cocopah Elder Will Bert Ortega Sr. on Saturday was inducted into the Kofa Kings Athletic Hall of Fame along with his football teammates, five athletes, and five coaches.
Ortega played on the Kofa Kings High School football team in 1961-62 when it won a state championship in the Class A North Division.
The inductees were honored Friday night just before the boys basketball game at the Rillos Gym on the Kofa campus.
On Saturday, the school held its induction ceremony, which included a luncheon and the unveiling of the Hall of Fame wall in the gymnasium.