Cocopah Sponsors Hospice of Yuma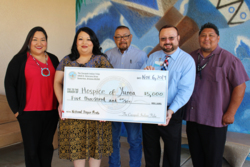 WIth November being National Hospice Month, the Cocopah Indian Tribe donated $5,000 to Hospice of Yuma in support of the non-profit group's mission to provide compassionate care for those in need and their families.
Pictured from left to right: Cocopah Councilwoman Rosa J. Long; Alysia Munoz, HOY planned giving and fundraising events coordinator; Cocopah Councilman Edmund Domingues; HOY Executive Director John Williams; Cocopah Vice Chairman J. Deal Begay, Jr.