Cocopah Supports Catholic Community Services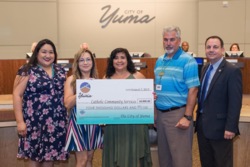 Cocopah Tribal Councilwoman Rosa J. Long (left) and City of Yuma Mayor Doug Nicholls (right) present a check for $4,000 to Catholic Community Services. As part of the Arizona Gaming Compact, Native American tribes in the state are required to share a percentage of their casino profits to local governments which distribute that money to local nonprofit organizations.
Also pictured from left to right Eva Mendez-Counts, CCS Yuma Executive Director; Sandy Ramos, CCS Yuma Advisory Board Vice Chair; and Joe Waterford, CCS Yuma Advisory Board Chair.