Cocopah Supports Somerton High School Committee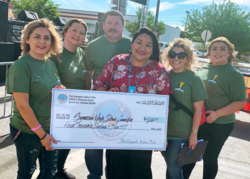 Cocopah Councilwoman Rosa J Long (center) presents a $4,000 contribution to the Somerton High School Committee during the annual Corn Fest that was held in Somerton on Saturday, Nov. 9.
Pictured from left to right: Committee members Alicia Figueroa, Martha Garcia, Martin Porchas, Cocopah Councilwoman Rosa J. Long, committee members Brissa Garcia, and Laisha Garcia.