Cocopah Supports Somerton High School Committee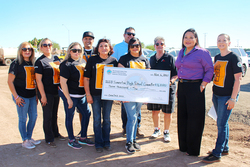 Cocopah Indian Tribe Chairwoman Sherry Cordova and Vice-Chairwoman Rosa J. Long present a $3000 check to the Somerton High School Committee. Somerton, on Nov. 6, held its annual Corn Fest celebration. The proceeds of which goes to support extracurricular activities for the soon to be built high school.
Pictured from left to right: Committee members Alicia Figueroa, Helen Anaya, Maribel Marin, Miguel Villalpando, Maribel Zavala, Jerry Cabrera, Lorena Zendejas, Cocopah Chairwoman Sherry Cordova, Cocopah Vice-Chairwoman Rosa Long, and Martha Garcia.