Cocopah Supports Yuma Jaycees Silver Spur Rodeo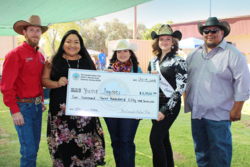 Pictured from left to right: 2020 Silver Spur Rodeo Chairman Damian Moore, Cocopah Councilwoman Rosa J. Long, Rodeo Teen Queen Mya Preston, Rodeo Queen Kaitlynn Salter and Cocopah Vice-Chairman J. Deal Begay, Jr.
Each year the tribe sponsors the rodeo's mutton busting event.