Ground Breaking Ceremony for New Convenience Store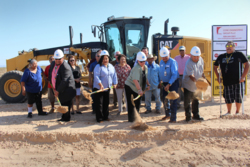 Cocopah Tribal Council on Friday morning hosted a Ground Breaking Ceremony for the Tribe's new convenience store. Located on Highway 95 across from the Cocopah Casino, the new store is expected to be opened spring of 2020.
The new convenience store will feature the following:
16 private vehicle pumps
Seven truck trailer diesel pumps
Traffic signal access
Bus and trailer parking
Information center
Coffee shop with drive thru
19-door cooler and walk-in beer cave
The convenience store portion will occupy 9,060 square feet. It will offer an expanded line of products.
Construction is expected to be finished in April 2020.
Core Engineering designed the new store and Denise Construction is the contractor.
Regarding the original Korner store, the Tribe is looking at other potential uses for the site, however, it is still too early in process to list specifics.
All the employees from the original Korner store will be relocated to the new facility. With this new, larger store, the Tribe will likely need to hire additional employees.