Kids Baseball League Thanks Cocopah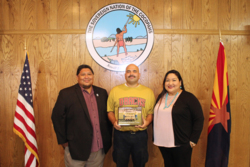 Yuma Boys Baseball League Coach Victor Zavala (center) presents an appreciation plaque to the Cocopah Indian Tribe for sponsoring the 2019 spring baseball season. The nonprofit group provides baseball coaching for both boys and girls ages 5 and 6 years old. The league played 20 games this past baseball season.
Cocopah Vice Chairman J. Deal Begay, Jr. (left) and Cocopah Councilwoman Rosa J. Long (right) accepted the plaque on behalf of the Tribal Council.