New Cocopah Tribal Council Takes Oath of Office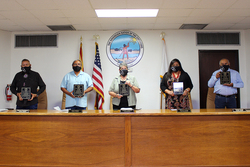 Cocopah Tribal Chairwoman Sherry Cordova, three incumbent councilmembers, and a former council member on Thursday were sworn-in to serve during the 2020-2022 term.
Councilwoman Rosa J. Long was elected to serve as Vice-Chairwoman. Councilmembers Edmund Domingues and Irwin Twist were re-elected and Neil White, who had served on council from 2010-2014, was elected.
Out of an abundance of caution, the Tribe's Election Committee postponed the election until Sept. 11 because of the COVID-19 pandemic. Voters were required to wear masks, use hand sanitizers, and maintain social distancing throughout the voting process.
Elections are usually held the second Friday in July every two years on even years.
Due to the current virus situation and concern for the health and safety of the community, there was no public inauguration of the newly elected council.
The new Tribal Council took their oath on Thursday, September 24, 2020.